The Soy Box CANDLE ADDICT Subscription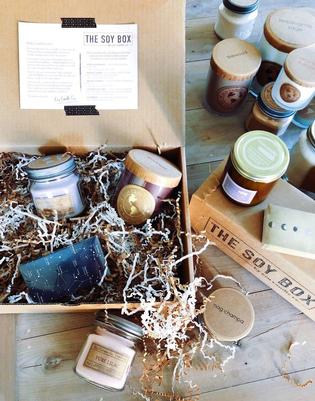 An assortment of 7 best-selling seasonal Eco Candle Company soy wax candles, curated and handmade by our team of artisans. Contains more than 575 hours of total burn time! Candle Addict subscribers will receive a seasonal delivery in June, September, December and March (ships the first week of the month) containing:
Two 6 oz soy candles

Two 8 oz retro mason jar soy candles

Two 16 oz soy candles

One 26 oz double wick soy candle

Eight assorted tea lights in new or best-selling fragrances to sample

Pack of decorative 4" matches

Exclusive promo codes

Free shipping
Retail value | $142 per box
There are 2 payment options to suit your needs. Investment for 4 seasonal deliveries of The Soy Box:
4 payments (quarterly) - $121 charged the first of the month in June, September, December and March. Save 15% off retail value or $84 annually! Cancel anytime.
1 payment (annual) - $424 charged one-time annually at time of purchase and covers all 4 shipments for 28 candles plus freebies. Save 25% off retail value or $144 annually! Paid in full, so no cancellation until your subscription is scheduled for renewal.
The Soy Box subscription is available to U.S. residents only.